The ukulele/guitar sporting comedy duo are back, with their third studio album, featuring all the wacky, crude and awesome things we've come to expect from the girls' music. This time releasing a full 13 tracks - some old, some new, some really new - Garfunkel and Oates aren't just talking about sex and relationships this time, bringing a whole slew of lyric bases and genre mick-takes.
1. Wow
- In this exciting, fast paced ditty (lasting only 35 seconds), the two present a song that is oddly ambiguous in meaning. At first, it seems like a straightforward introduction to the new album and their upbeat, quirky style, sounding not far from a 90s cartoon theme tune. But listen properly to the lyrics and you'll notice it has a nice feel-good factor, telling you "You're really cool" in a sweet pick-you-up notion. In some ways, it seems just like a Thank-You from them for shelling out £7.99 for this digital-only download. All in all, a fresh, fun start.
2. Go Kart Racing
- While this one may be based on true events, don't expect some deep, soulful Adele style song. No, because this is Garfunkel and Oates, so naturally the line after "Go kart racing" is "accidently masturbating", and the rest of the 2:04 song is spent describing this awkwardly pleasurable situation... Not one for the Grandma, but plenty of knee-slapping one-liners and an insanely catchy hook will have you repeating this at all the wrong moments. The key-change at the end is something to look forward to, and just the mere fact that this is classic chord strumming simplicity keeps it from getting too outrageous.
3. I Don't Know Who You Are
- Riki and Kate's ability to nail real world, day to day awkward situations in their lyrics really shines through in this one, because I'm sure we've all had someone come say "Hello" and not have an effing clue who they are. Again, simple chords rule the rhythm (with the addition of some chimes at times), and the pair's vocals sound really gentle, tidy and right on throughout. Ironic, considering the C-bomb gets dropped early on...
4. Handjob, Blandjob, I Don't Understand Job
- The rudest, funniest and richest song on the album, as G'n'O tackle that tedious problem of how to jerk a guy off. It really is as explicit as it sounds, making no apologies for likening a penis end to a "Darth Vader Pez Despenser" and the 'nads for
The Muppets
' Statler and Waldorf. There's a ton of celebrity references, some of which are a little vague, while others are absolute genius ("More singled out than CHRIS HARDWICK!"). The synth-dance beats busting out in the back lend it another flavour too. A gem, but just be careful of repeating it out in public...
5. Save The Rich
- Like
"Sex With Ducks"
from their previous album, "Save The Rich" takes a satirical poke at political issues, this time with the whole
Economic Inequality deal
that swept over America this last year. Based on keyboard, and with a patriotic vibe going on, the song really takes off with the blatant tongue-in-cheek lines like "Children to exploit" and "Without their 7th home, how will they make it through?". The proper recording is also a vast improvement on the ropey YouTube version they'd uploaded a while back, allowing full appreciation of the song's entirety.
6. Hey Girl in The Moonlight
- A good ol' classic that first appeared on their debut album, Music Songs, this one is undeniably Garfunkel and Oates, with their awkward-moment lyrics, sweet chordal structure and in a delightfully quick fix of 1:21. Quite a defining song for the duo, which works really great if you're craving a lil' comedic motivation.
7. The Ex-Boyfriend Song
- Sensational. Truly, this is just a complete comic masterpiece. 6 seconds long, but just so god damn funny. You have to hear it to believe it. Moments like this is what reminds us that Garfunkel and Oates are still entirely original.
8. Silver Lining
- Another one from Music Songs, but one that definitely needs more exposure due to its brilliance. It's obvious the gals can do comedy, but with Silver Lining things sound a bit more serious and surprisingly it works rather wonderfully. Sure there are some humourous beats in there, but ultimately this is about picking yourself back up after a break-up or similar incident and feeling good about yourself. Actually quite touching, this song stands out as a cute, self-esteem boosting tune that plays beautifully on the ears.
9. I Would Never (Have Sex With You)
- What I love about this track is its familiarity. Taking on a bouncy, joyful and classically 40s sound, I Would Never gives some of the cleanest (but nonetheless fun) lyrics and has an honestly jolly warmth to it. If you were looking for an upbeat, bob-along song, then this is it.
10. Google
- Kicking in to ballad mode now, with the contrast between daftly apt lyrics of Googling a potential date, and the strong flow of the very power-ballad chorus. Of course, there's a few iddy-widdy bridges that serve as nice breaks (and sound oddly like nursery rhymes) and the last line's a killer.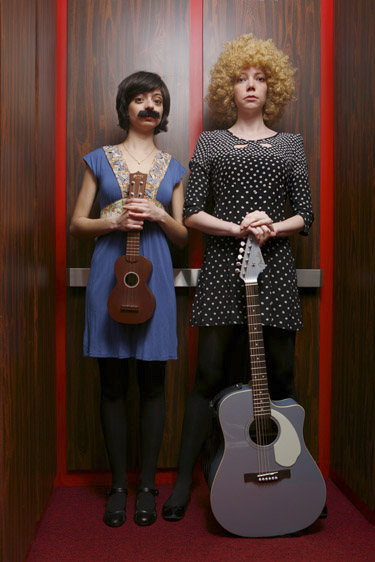 11. I Would Never (Dissect a Ewe)
- In a meta-esque throwback to No. 9, the girls prove their comedic ability, literally riffing off their own material in side-cracking, gut busting self-mockery. Yep, taking all the same parts from the previous tune we're now rewarded a piece about science class and dissection of animals (hell, you may even learn a thing or two). I presume this started out as a joke and then blossomed into a fully realised, awesomely laugh-tacular song, which is something no other artist could probably get away with. Enjoy, but just watch out for that "Sheep Ghost"...
12. My Apartment's Very Clean Without You
- We go melodic with this piano/vocal track, which gives out the pretence of being some sort of meaningful sad song, and then makes it all ironic with the whole "I'm glad I dumped you, because you messed my place up" theme. More variation like this is always welcome, and does a decent job of rounding out the album before the final track, in a calm, sophisticated and truthfully funny way.
13. Go
- Coming full circle with an identical set up to No. 1's Wow, Go does pretty much the same thing, except in an even more grander fashion. That Feel-Good factor is now amplified and set to a more Motivational pace, urging - daring - you to "Go Live Your Dreams" and is amazingly inspirational if you really listen to it. A very sugary high note to end the album, making anything that you didn't like (somehow) become forgettable in place of this diamond. Le fin.
A great album for any comedy loving fan, with a musical heart that you'll be hard pressed to find elsewhere. The only downside: could've done with a couple more songs, maybe a special "Featuring Guest Star..." one. But the comedy within its own self, even outside of the music, is a sure selling point that makes it clear that Garfunkel and Oates have a vivid staying power, and a bright, jolly future ahead.
4/5 Stars
Buy It Now On iTunes!
ATR