14+1=15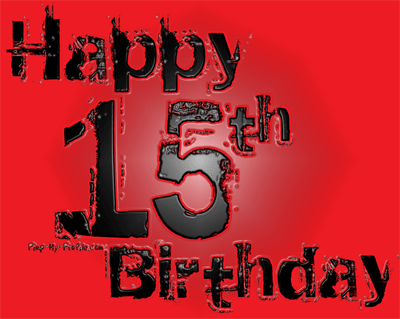 To me!
Yep, in case you hadn't guessed it, I turned 15 this week; yesterday to be precise. Well,
12:34
yesterday to be
really
precise. It was good and I got some new stuff to keep me busy; a keyboard, some books and a few pairs of socks, to name but a few of the goodies bestowed upon me for simply living over 15 Summers. Being fifteen is cool too, seeing as now I can watch 15 rated movies legally and feel safe in the knowledge that my RE:View's aren't breaking the law in some way. Just you wait mister Indian cinema man who didn't let me into a movie once, because I'm gonna flash you my ID so hard your eyes will burn in the flurry of fifteeness!
This week also saw my Hangover 2 analysation, roping in an impressive 29 views in just 5 days, and that was just from individual hits on the post itself. Overall, I've gained over 90 hits in a mere week, boosting me well past the 700 hundred mark. If we carry on at this rate, 1000's going to be a breeze!
Anyway, onto the future. I'll try to come up with another original article soon, along the lines of the "Phoenix Jones" and "Troller" pieces. The subject of said article is yet to be decided, but I've got a couple of ideas circling my brain like electrons in an atom (sorry, I've been doing a lot of science this week). Maybe some news stories are in order too? Plus, I'd like to get some sort of book RE:View out there, just so I can have a little more to talk about than the bog-standard movies or games. Talking of books, I am completely swamped with them right now, juggling about 3-4 stories at once. Hopefully I'll be able to burn through them this week, freeing up some space on my bedside table.
Not much else to really say this week, and to be honest I don't think I've actually said that much here anyway. Keep checking back though, because I have feeling it's going to be a busy week on here. I don't know why... I can just sense it. Have a good one.